Children's Tooth Development
Children continually get new teeth from age 3 months to the age 6 years. Most children have a full set of 20 primary teeth by the time they are 3 years old. As a child nears the age 6, the jaw grows making room for the permanent teeth. At the same time, the roots of the baby teeth begin to be resorbed by the tissues around them and the permanent teeth under them begin to erupt.

Primary teeth are just as important as permanent teeth for chewing, speaking and appearance. They also serve as placement holders for the permanent teeth. Primary teeth also provide structure to help shape the child's face.
Healthy teeth are important to your baby's overall health. Teeth help your baby chew food and form words and sounds when speaking. They also affect the way your baby's jaw grows.

Every baby is different. Generally, the 2 front teeth start to appear between 4 and 7 months of age. Teething is usually painless, but it can make some babies uncomfortable and fussy. Giving your baby a cold teething ring or a cold washcloth to chew or suck on may help. Teething does not cause a fever. If your baby has a fever, you should talk to your doctor.

Start cleaning your baby's teeth twice a day as soon as the first tooth appears. Until your child is 1 year old, you can use a wet wash cloth or gauze to clean your baby's teeth and gums. At about 1 year to 18 months of age, you should start using a soft baby toothbrush and a small dab of toothpaste that does not have fluoride in it. This type of toothpaste is safe for your baby to swallow.

Be sure to take your baby to a dentist by his or her first birthday, especially if there is a high risk for cavities or any other problems with his or her teeth. It is better for your child to meet the dentist and see the office before he or she has a tooth problem.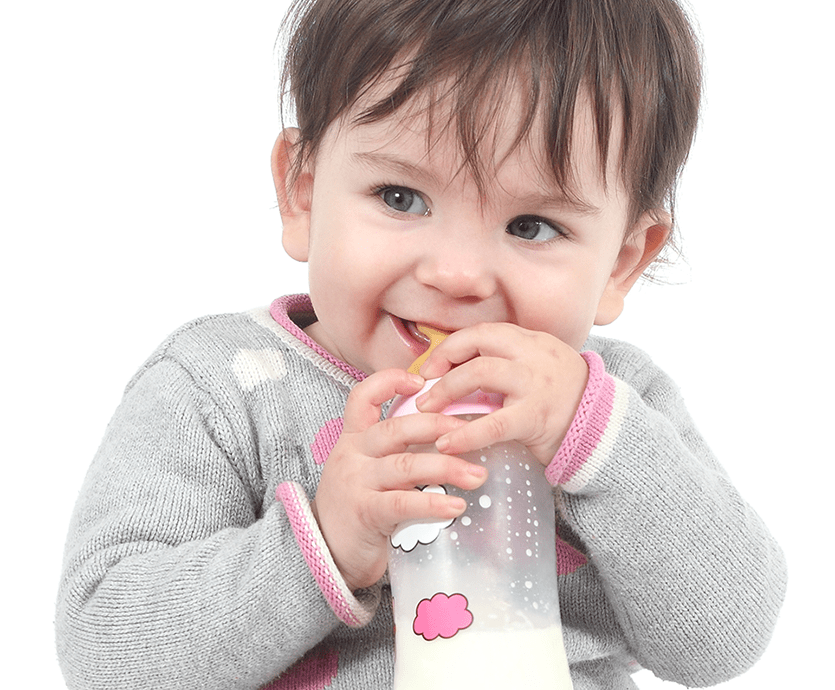 Baby bottle tooth decay or syndrome is a form of tooth decay that can destroy the teeth of an infant. This decay may even enter the underlying bone structure, which can hamper development of the permanent teeth. The teeth most likely to be damaged are the upper teeth. Baby bottle decay is caused by frequent and long exposure of a child's teeth to liquids containing sugar such as milk, formula, fruit juices, pop and other sweetened liquids. These liquids fuel the bacteria in a child's mouth, which produces acids that attack enamel.
It is completely normal and healthy for your baby or young child to suck on a thumb, finger, or pacifier. Children usually give up sucking habits on their own by the time they are 4 to 5 years old.

If they stop the habit at this age, the shape of the jaw is usually not affected and the teeth grow in normally.

Children who continue sucking on a pacifier, finger, or thumb when their permanent adult teeth start to come in are more likely to have bite problems.

Sucking can cause:
- The top front teeth to slant out
- The bottom front teeth to tilt in
- The upper and lower jaws to be misaligned
- The roof of the mouth to be narrowed
- The need for braces

Treatment: Your doctor may decide to construct an appliance to discourage thumb sucking.
Dr. Soboh, Dr. Liswi, and Dr. Tedini would love to meet you and your family and provide you with the dental care you deserve!