Child's First Dental Visit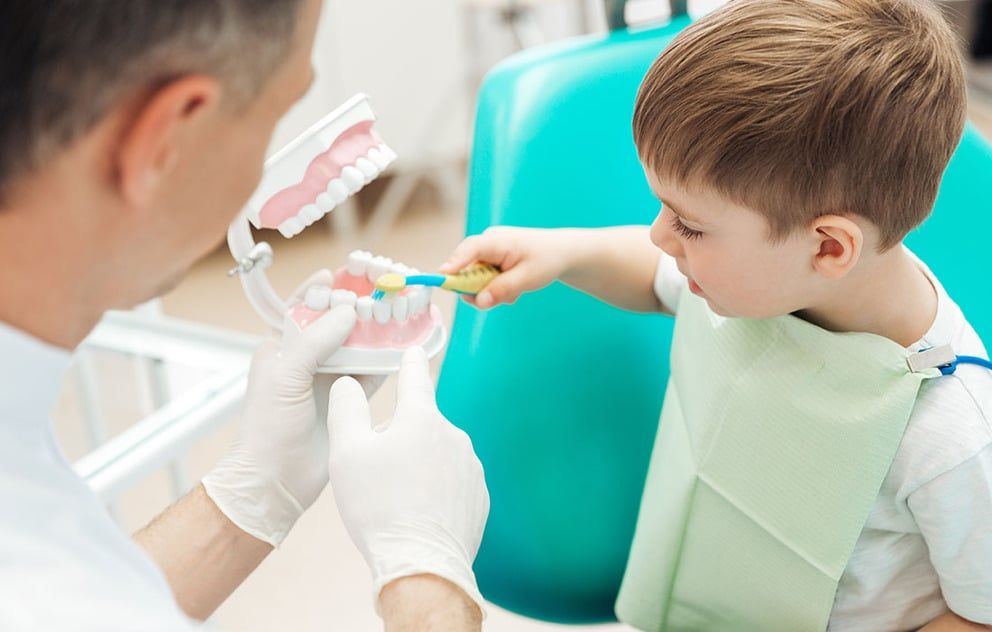 We have several important goals during your child's first visit to our office. First, we want to introduce your child to staff and the dental setting in as non-threatening a way as possible.
The Goals:
1. To provide pleasant introductions to the dental setting and staff, an overall positive experience for your child.
2. To perform a comprehensive exam and assessment of your child's dental health and needs, both now and future.
3. To obtain radiographs when possible in order to provide important additional diagnostic information.
4. To perform preventive measures such as cleaning, topical fluoride application, oral hygiene instructions and dietary guidance.
5. To provide the parents or guardians a thorough analysis of the child's dental and oral status, including restorative needs, orthodontic treatment needs, and home care recommendations.
6. To provide an assessment of treatment methods that would best serve, given your child's behavior and abilities.
In general, children need x-rays more often than adults. Their mouths grow and change rapidly. They are more susceptible to tooth decay than adults. The American Academy of Pediatric Dentistry recommends x-ray examinations every six months for children with a high risk of tooth decay. Children with a low risk of tooth decay require x-rays less frequently.

X-rays allow dentists to diagnose and treat health conditions that cannot be detected during a clinical examination. If dental problems are found and treated early, dental care is more comfortable and affordable.

X-ray films detect:
- Cavities
- Erupting teeth
- Diagnose bone diseases
- Evaluate the results of an injury
- Plan orthodontic treatment

Particular care is applied to minimize the exposure of young patients to radiation. With contemporary safeguards, the amount of radiation received in a dental x-ray examination is extremely small. The risk is negligible. In fact, dental x-rays represent a far smaller risk than an undetected and untreated dental problem.
A space maintainer is a removable or fixed appliance designed to maintain an existing space. They are usually fitted to children when they have lost baby teeth early. The gap left from losing this tooth needs to be held open for the permanent tooth to erupt in its correct position.
Accidents can happen during any physical activity. A mouth protector can help protect the soft tissues of your tongue, lips and cheek lining. Over-the-counter stock mouth protectors are inexpensive, pre-formed and ready-to-wear. Boil and bite mouth protectors offer a better fit than stock mouth protectors. Softened in water, they are more adaptable to the shape of your mouth. Custom-fitted mouth protectors are made by your dentist for you personally. They are more expensive, but a properly fitted mouth protector will stay in place while you are wearing it, making it easy for you to talk and breathe.
Sealants are a proven way to help prevent cavities. Although sealants do not take the place of proper oral hygiene, they do prevent bacteria from getting into the deeper crevices in a tooth's biting surface and therefore keeping the tooth cavity-free.
Dental Anesthesia for Children
Advanced Dentistry by Soboh Liswi Tedini treat pediatric patients in Pomona. They often treat patients who present special challenges related to their age, behavior, medical conditions, or any other special needs. To address these challenges effectively in order to provide "predictable" treatment, your pediatric dentist may recommend treating your child under General Anesthesia.Advanced Dentistry by Soboh Liswi Tedini , by virtue of training and experience, are qualified to recognize the indications for such an approach and to render such care. They will discuss all the necessary steps that must be taken in order to promptly and safely complete your child's dental treatment after this treatment option has been chosen.
Dr. Soboh, Dr. Liswi, and Dr. Tedini would love to meet you and your family and provide you with the dental care you deserve!